Local author Richard Piland of Fairfield will discuss high points of his book about the history of Hamilton's public schools from 1850 to 2010 during a presentation at 1 p.m., Saturday, May 14 at the Butler County Historical Society, 327 North 2nd Street, Hamilton.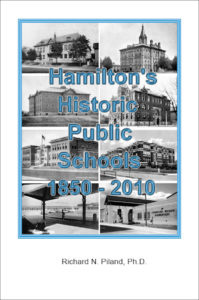 Piland will be available before and after the presentation to sign copies of his book that will be available for purchase for $5. The program to be held in the society's Emma Ritchie Auditorium is free to the public.
Piland published the book in 2011 to commemorate the end in 2010 of the district's construction of eight new state-of-the-art elementary schools. "I wanted to create a brief history of the district's schools and include photographs of those wonderful old school buildings as a keepsake for people who attended them." The book features more than 60 photographs of the district's school buildings, many of them vintage images from the 1800s, and identifies the superintendents who led major school building efforts.
The Arcadia Publishing Company has published four other local history books Piland has written including Legendary Locals of Hamilton, Images of America: Hamilton's Industrial Heritage, and two other "Images of America" books focusing on his hometown, Independence, Mo., and the nearby town of Sugar Creek. He is a member of the board of trustees of the Butler County Historical Society and has written a variety of articles, exhibits and programs for the society.
The Butler County Historical Society, located at 327 North Second Street, Hamilton, and its Benninghofen House museum is open to the public Tuesday through Friday from 9 a.m. to 4 p.m. and Saturdays from 9 a.m. to 2 p.m. Group tours of the Benninghofen House Museum can be arranged by calling 513-896-9930.