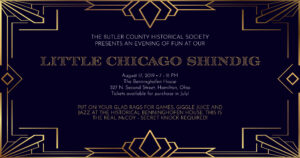 John Dillinger and Al Capone. Prohibition-era speakeasies and bootlegging operations. Gangsters and casinos. The Butler County Historical Society is harkening back to the golden age of rum-runners, gambling, flappers and jazz for a fund-raising gala at the historic Benninghofen House in Hamilton's German Village on August 17, 2019.
The Hamilton of the 1920's was a booming center of industry, and the success of paper mills and machine tool manufacturers brought wealth and a seedy underworld to our city. Many Chicago gangsters had second homes in Hamilton, which was a convenient stop along the illegal liquor routes during prohibition, earning the city the nickname "Little Chicago." Local history buffs love to regale you with tales of John Dillinger's hide-out on second street, local bootleggers and scandalous gangster wars. But, on August 17, toast the past with a glass of giggle juice, listen to some jazz and enjoy the ritzy side of our Little Chicago.
For their evening fund-raiser, the Historical Society invites you into their 1900's era mansion on Second Street in the German Village. Your ticket purchase will get you the secret knock for entry, along with some drinks, hors d'oeuvres and chips for casino games. Flapper dresses, feathers and pearls, and pinstripes are encouraged, but not mandatory (dressy casual or cocktail attire are all the glad rags you need). Outside the home, plan to snap some selfies with a small but stunning collection of vintage cars – there's an aces insta filter to help your photo be period-perfect!
Inside the Benninghofen House, you'll be transported back in time to our Little Chicago speakeasy. Our gin mill (or bar, as they say today) will be stocked with beer, wine, a few prohibition-inspired cocktails and a limited-edition batch from our local brewery Municipal Brew Works. A three piece jazz ensemble will play live music throughout the evening. And, of course, no speakeasy would be complete without some gambling. Enjoy roulette, craps and blackjack, but make sure you bring some extra clams in case the coppers try to bust up the joint!
In addition to the casino games and music, there will be a silent auction with gift baskets from local vendors and shops, as well as a split the pot raffle. The party goes from 7 to 11 PM at 327 N. Second Street in Hamilton. Tickets can be purchased through the BCHS facebook event page or eventbrite, or by contacting the Historical Society directly at (513) 896-9930. Tickets are $50 apiece and the ticket price includes 2 drink tickets and a pre-set amount of chips for casino games. All of the proceeds for this event go toward the Butler County Historical Society, a non-profit organization dedicated to the education, support and preservation of Butler County's rich heritage.