Join the Butler County Historical Society as guest speaker B. J. Miller presents the history of the Henry Ford and Son Fordson tractor and wheel manufacturing plant that operated in Hamilton from 1920 through 1951. Miller's presentation will be at 7 p.m. on August 2nd in the Emma Ritchie Auditorium at the Butler County Historical Society, 327 North 2nd Street, Hamilton. The program is free to the public.
Miller, co-ow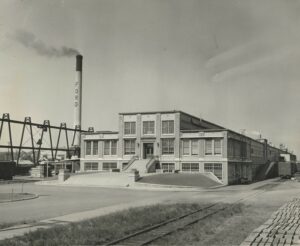 ner of Ron's Auto Body Shop in Shandon with Casey Miller since 2010, is known nationally for his work restoring antique engines. He has been involved with antique autos for many years, dating back to his youth. His father, Ron Miller built a "salt flat car" with his friend Mark Radke that set world records in 2007, 2009 and 2012 at the Bonneville Salt Flats using a vintage Model A Ford-powered sprint car they built. The family's collection of top-notch Model T and Model A Fords are in the Salty Dog Museum, adjacent to Ron's Auto Shop in Shandon.
The Ford plant originally opened in 1920 to build gas-powered Fordson tractors. Shortly after opening, however, the factory shifted to manufacture more than 12 million wheels for the Ford Model T between 1920 and 1927. After the plant was retooled, more than 22 million wheels for Ford's Model A automobile were made from 1927 to 1937. During World War II the plant built parts for bomber engines. Between 1951 and 1962, the Bendix Aviation Corporation operated at the plant. The Ward Manufacturing Company made camping trailers at the facility until the Chem-Dyne Corporation opened a chemical-waste storage site on the property in 1975.