The Butler County Historical Society will present on Saturday, August 10, the third of its summer multi-generational programs designed for children and their parents or grandparents. It will be held in the front yard of the society's Benninghofen House museum at 327 North Second Street, Hamilton, and begin at 9:30 a.m. and end around 2 p.m. The program is free and open to the public, thanks to a generous grant from the W. E. Smith Family Trust of Oxford.
"All in a Day's Work – In the Home" will focus on the common chores that were typical of daily life on a Butler County farm during the 1800s. During this session we will be making butter, doing laundry and pr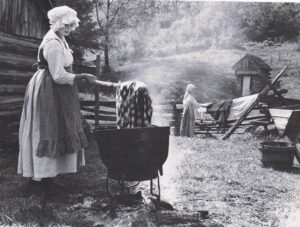 obably getting wet. We'll shell and grind corn to make cornbread and taste what we make. We will also explore how pioneers used sorghum to sweeten their food, make flour, popcorn and even brooms to clean their homes. There will be a special scavenger hunt for the kids and their parents where they will seek several key artifacts and items in the society's current exhibits. All activities are designed as hands-on experiences with no set program. People can join the event anytime between 9:30 a.m. and 2 p.m. In the case of poor weather, activities will be moved inside to the Emma Ritchie Auditorium.
Kathy Creighton, executive director of the historical society, said she thinks the children and their family members will have a good time during the program again this year. "Last year, everyone had great fun and really enjoyed themselves and the kids especially liked getting wet when they did laundry the way pioneer families did. We've created scavenger hunts for all of our summer programs this year and the kids really like winning a small prize when they find the items. We think this session will be an excellent hands-on experience for kids and a real treat for all."