TV and media reporter John Kiesewetter will be the featured speaker during the 85th Annual Meeting of the Butler County Historical Society. The meeting will be held in the Fitton Center for Creative Arts Carruthers Signature Ballroom, 101 S. Monument Avenue, Hamilton on Thursday, November 7. A cash bar will be available beginning at 5:30 p.m. followed by dinner at 6:15 p.m. A brief business meeting after the dinner will feature a report of the society's activities during 2019 and the election of the society's new board members and slate of officers for 2020.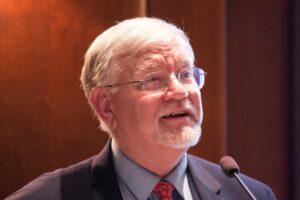 John Kiesewetter was a Cincinnati Enquirer reporter for 40 years and the newspaper's TV columnist for 30 years before taking his current position in 2015 with Cincinnati Public Radio station WVXU-FM. He is a Butler County native, born in Middletown and a 1971 Fenwick High School graduate. John lives in Fairfield with his wife, former Journal-News reporter Sue Kiesewetter.
Kiesewetter will speak on "Remembering Cincinnati's Biggest TV Stars." He will tell his favorite stories about Cincinnati TV stars including Bonnie Lou, Bob Braun, Nick Clooney, Paul Dixon and Al Schottelkotte. He will also tell tales about George Clooney, Woody Harrelson and others he covered in the Los Angeles and New York TV markets. Kiesewetter's talk will be a fun-filled and nostalgic remembrance of the people that helped create the golden age of Cincinnati television.
The dinner and meeting are open to all historical society members and the public. Tickets are $45 for individuals and $85 for couples. People interested in attending should make reservations for the event no later than October 31st by calling the society at 896-9930.