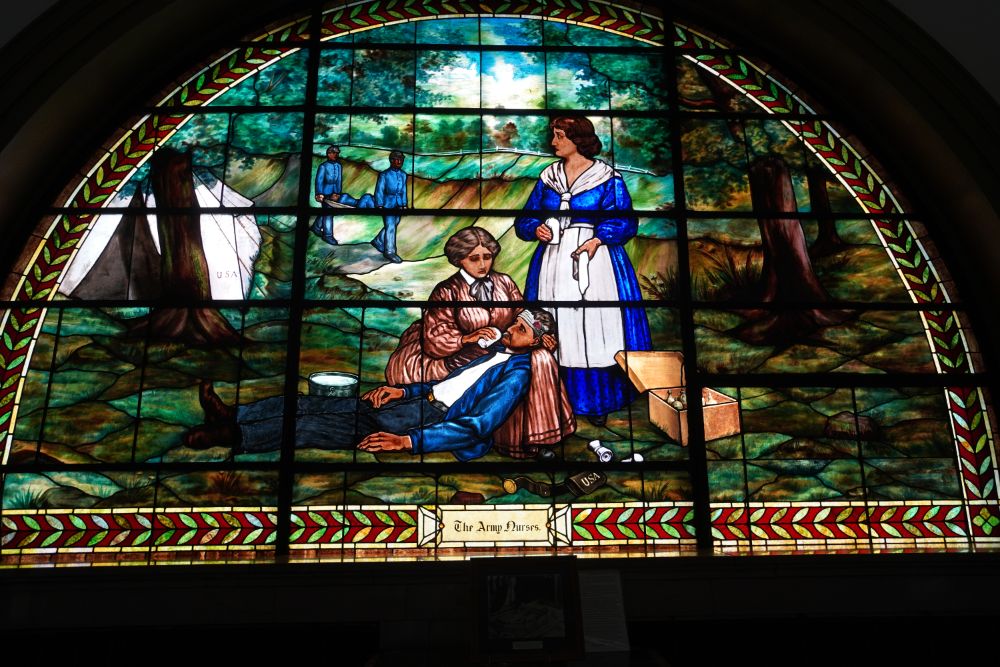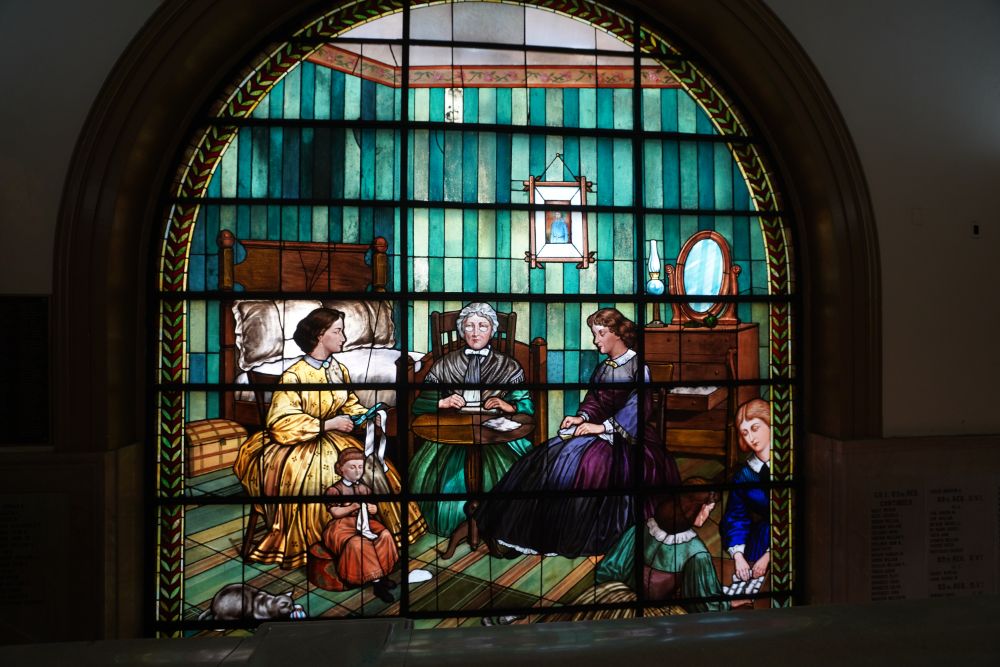 The Butler County Soldiers, Sailors and Pioneers Monument was built to honor those who served and sacrificed their lives in the service of our country, as well as celebrate the men and women who first settled in Butler County, Ohio. The Monument stands on the former site of Fort Hamilton, built by General Arthur St. Clair in 1791 and enlarged by General "Mad" Anthony Wayne in 1792.
Construction of the monument began in 1902, with an official dedication taking place on July 4, 1906. The massive neoclassical style monument is 100 feet tall and 40 feet square. The interior is finished with highly polished tablets of Tennessee marble engraved with the names of Butler County pioneers and veterans of American wars spanning from the Revolutionary War through the Spanish-American War of 1898. Additionally, there are handcrafted life-size stained glass windows in the monument commemorating the contribution of women during wartime. The first window, The Army Nurses, portrays a nurse caring for a Civil War soldier, while Our Loyal Mothers and Sisters depicts women and children rolling bandages in preparation for war.
Atop the temple dome of the structure is a 3,500 pound, 14 foot bronze statue of a young Civil War soldier referred to as "Billy Yank." The statue, designed by Hamilton sculptor Rudolph Thein, is waving his cap victoriously in the air while standing on an exploded shell.
In 2018, the Butler County Historical Society was named operations manager of the facility. Funding for the monument comes from the Hamilton Community Foundation, the Butler County Commissioners, and numerous grants and public donations. This partnership has allowed for a revitalization of the interior of the monument, including newer exhibits and displays, and naming Hamiltonian and Vietnam veteran, Butch Frederick, as curator. Uniforms, artifacts, photographs and stories of Butler County soldiers are featured in rotating and updated exhibits of the American Wars. Records of Butler County residents who served in WWI, WWII, Korean, Vietnam and Gulf Wars will be maintained by a new digital kiosk coming soon to the monument.