BCHS Blog
Read all about BCHS's recent findings below.
BCHS Shirt Sale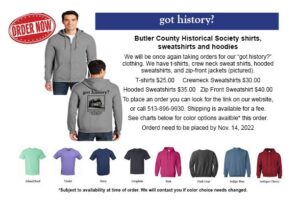 The Butler County Historical Society is selling t-shirts, crew neck sweatshirts, hooded sweatshirts, and front zip sweatshirts. Orders will be picked up at the Historical Society at 327 N. Second St. Hamilton, OH 45011 the beginning of December. Orders must be placed by Nov. 14, 2022. Delivery available for a fee (please contact us to make these arrangements prior to ordering any items). You may click the links below or call us at 513-896-9930 to place your order. Payment is due at the time of order. If you have any questions, please reach out to Christina at christina@bchistoricalsociety.com
Summer 2022 Newsletter
Summer programs, Model T's and more! Click the link below for our Summer 2022 Newsletter
Spring 2022 Newsletter
Summer Programs, Quilt Exhibit and more!
Click the link below for the Spring 2022 Newsletter.
2022 Multigenerational Summer Programs
The 2022 Multigenerational Summer Program Dates have been announced. These programs will be held outside (weather permitting) in the front yard of the Benninghofen House. All programs are FREE and open to the public, thanks to a grant from the W.E. Smith Family Trust of Oxford.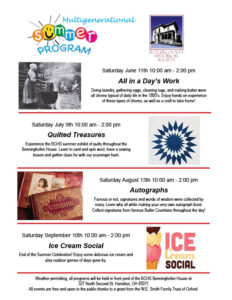 Members Only Events
Thursday February 24th 7:oo PM
"Custom Made: Dressmakers and Tailors 1820-1920"
Lead by Dr. Sara Butler this topic will cover designers
and makers of clothing with many local recognitions.
Thursday March 24th 7:oo PM
"1913 Flood – Firsthand Accounts"
Executive Director Kathy Creighton will read firsthand
accounts of those who lived through the devastation of
the 1913 Flood.
Thursday April 28th 7:oo PM
"Quilted Treasures: Stories in the Stitches"
BCHS Member and Volunteer Mary Royer will lead a
discussion featuring the many quilts in our collection.
All presentations will be offered in person and virtual via Zoom link. Please contact the BCHS for more information.
Winter 2022 Newsletter
The 2022 Winter Newsletter is now available. Topics include our annual report, new board members, upcoming events and more!