BCHS Blog
Read all about BCHS's recent findings below.
BCHS Fall 2020 Newsletter
Click the link below to read our Fall 2020 Newsletter. Featured in this issue is our award winning Driving Tours, updates on the Emma Ritchie renovations, The Civil War flag restoration project, and much more!
Virtual Winter Lecture Series
Join us for our Winter Lecture Series via Zoom Meetings. To register please call (513-896-9930) or email (info.bchistoricalsociety.com). Links will be emailed out the day prior to the lecture date.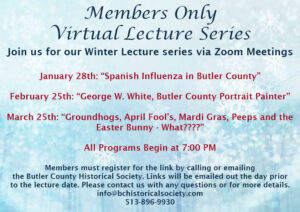 Topics will be as follows:
January 28th: "Spanish Influenza in Butler County"
February 25th: "George W. White, Butler County Portrait Painter"
March 25th: "Groundhogs, April Fool's, Mardi Gras, Peeps and the Easter Bunny – What???"
All Programs begin at 7:00 PM
Let Women Vote: Butler County's Fight for Suffrage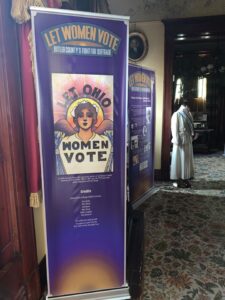 The long struggle to gain the vote for women started in the first half of the 19th Century and ended with the passage of the 19th Amendment in 1920. Butler County women joined in this fight at the beginning of the 20th Century. Women's clubs, church groups, and other staged events organized by local suffrage groups took place all over Butler County. The Butler County Historical Society is proud to recognize these local suffragists, and how they engaged both the local, and national, fight to get women the right to vote. Join us, as we celebrate the 100th anniversary of the 19th Amendment, and visit our exhibit "Let Women Vote: Butler County's Fight for Suffrage".
To schedule your free tour of the exhibit, please call 513-896-9930.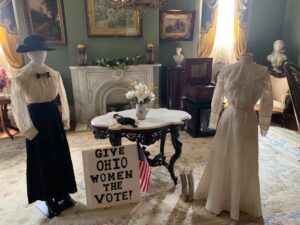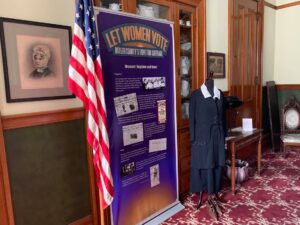 Stay Safe Summer Multigenerational Program – Recycling in Pioneer Times
Join us for our second instalment of the Stay Safe Summer Multigenerational Programs. BCHS Docent Ed Creighton, on location from his farm, teaches how recycling was done in the Pioneer times. Click the link below, or access the video from our new YouTube channel. Enjoy!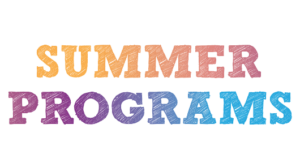 Stay Safe Summer Multigenerational Program- 1800's Medicine
The first of the 2020 Stay Safe Summer Multigenerational Summer programs will cover the topic of 1800's Medicine.
"Lest We Forget" Decoration / Memorial Day Vintage Postcard Collection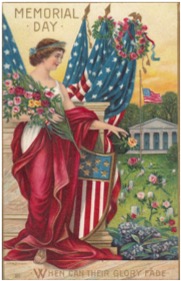 In 1868, General John A. Logan of the Grand Army of the Republic (GAR: a fraternal organization of Union veterans who severed in the American Civil War), declared May 30, 1868 as a national day of remembrance for those who died in the fight to preserve the Union. Known as Decoration Day, it was customary to "decorate" the graves of these soldiers with flowers and wreaths. By the 20th century, as the country healed from the fissures of the Civil War and engaged in two World Wars, this day of remembrance gradually became known as Memorial Day, and was officially declared a national holiday in 1967.
In the time between 1907 and 1914, the American public was enamored with both picture and souvenir cards, often referred to as the "Golden Age" of postcards. Drug stores, five and dimes and stationary shops across the nation stocked a variety of subjects to satisfy the public's obsession with these inexpensive and attractive cards. Local street views, humorous greeting cards and holiday cards were mailed daily to friends and family, and also filled albums as collections. Patriotic themed cards were especially favored, and images of Decoration Day were quite popular. Beautifully illustrated images of Northern aging veterans, cherubic children, attractive young women, and pensive widows with scenes of gravesites, men marching off to war, American flags, garlands of flowers, cannon and GAR medals coupled with poetic and sentimental verse created a genre of card unlike any other.
In honor of Memorial Day 2020, the President of the Board for the Butler County Historical Society, Brian Smith, has cultivated a vast collection of beautiful Decoration Day cards. Please click on the link below to view the collection, paired with Decoration Day history and Butler County's role in the Civil War.