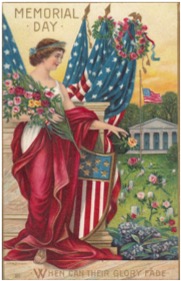 In 1868, General John A. Logan of the Grand Army of the Republic (GAR: a fraternal organization of Union veterans who severed in the American Civil War), declared May 30, 1868 as a national day of remembrance for those who died in the fight to preserve the Union. Known as Decoration Day, it was customary to "decorate" the graves of these soldiers with flowers and wreaths. By the 20th century, as the country healed from the fissures of the Civil War and engaged in two World Wars, this day of remembrance gradually became known as Memorial Day, and was officially declared a national holiday in 1967.
In the time between 1907 and 1914, the American public was enamored with both picture and souvenir cards, often referred to as the "Golden Age" of postcards. Drug stores, five and dimes and stationary shops across the nation stocked a variety of subjects to satisfy the public's obsession with these inexpensive and attractive cards. Local street views, humorous greeting cards and holiday cards were mailed daily to friends and family, and also filled albums as collections. Patriotic themed cards were especially favored, and images of Decoration Day were quite popular. Beautifully illustrated images of Northern aging veterans, cherubic children, attractive young women, and pensive widows with scenes of gravesites, men marching off to war, American flags, garlands of flowers, cannon and GAR medals coupled with poetic and sentimental verse created a genre of card unlike any other.
In honor of Memorial Day 2020, the President of the Board for the Butler County Historical Society, Brian Smith, has cultivated a vast collection of beautiful Decoration Day cards. Please click on the link below to view the collection, paired with Decoration Day history and Butler County's role in the Civil War.